Espresso Quality
Anyone can become a Barista with our range of expresso machines. Select Espresso machines have a unique European heritage. Constructed in Monte Carlo, these high quality machines offer great options and a unique coffee experience known no other way.
---
Automatic - BUNN SURE TAMP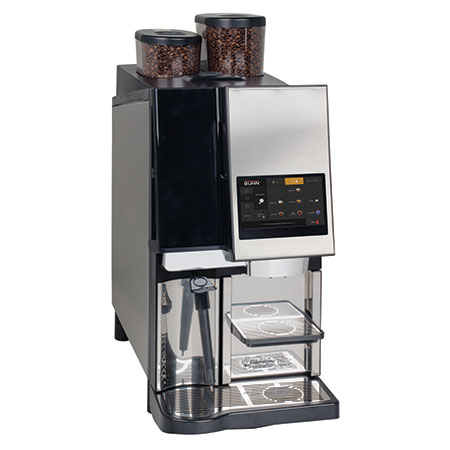 BUNN Espress® Sure Tamp™
Steam Superautomatic
Espresso Machine
Simple solution for exceptional espresso beverages from a sleek superautomatic
Why Bunn?
The heart of the BUNN Espress® Sure Tamp® Superautomatic is the exclusive Sure Tamp® process incorporated into the Brew System Assembly. Gold cup espresso production begins with the formation of a puck (of compacted recently ground coffee) that allows for the optimum movement of water throughout. The all-metal Sure Tamp ® uses a proximity sensor to ensure correct compaction and a precise tamping pressure, while quality design specifications assure consistent production of pucks of perfect resistance, time after time.
Machine Specifications
Two hoppers allow for your choice of fresh espresso beans
Dispense spout accommodates cups up to 20oz
Stylish design fits into any decor
Ideal for specialty retail/espresso bar environments
Build-A-Drink™ menu with beautiful graphics guides the operator
Picture Prompted Cleaning™ daily process with reminder and lockout
Small footprint
Intellisteam® wand automatically steams to proper milk temperature - no need to monitor with a thermometer
Ability to steam .5L of milk in under one minute
Technical Data
Electrical: 208V / 20.4 amps / 4300 total watts
Water: 1/4" water line
Drain: Waste water hose included. Must be connected to a drain.
Dimensions: 30.06" H x 12.4" W x 25.28" D
Weight: 145 lbs.
Contact us now for more information
---
Automatic - JURA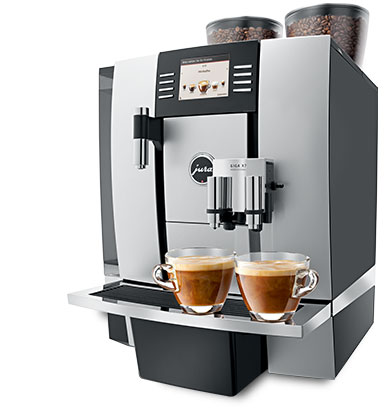 Fundamental Swiss values
Innovation, precision, quality, reliability, sustainability and service shape the DNA of JURA. The Swiss company is the only brand anywhere in the world to focus solely on automatic speciality coffee machines and is clearly positioned as a specialist in this market. Coffee machines from JURA are associated with the best coffee result, the simplest operation and stunning design.
The best coffee result
JURA coffee machines are developed by a dedicated team of 70 engineers. Their aim is to achieve the perfect coffee result, always freshly ground and extracted at the touch of a button. Recently JURA's engineers reached a milestone with the revolutionary Pulse Extraction Process (P.E.P.®), which creates an unprecedented full aroma even with short speciality coffees.
Simplest operation
JURA coffee machines are self-explanatory, easy and intuitive to use. To name just one example, the filter cartridge and coffee machine are wirelessly linked by RFID technology. The machine automatically recognises the filter and selects the appropriate settings.

Stunning design
The shape and materials reflect the quality inside JURA coffee machines. The Z6 is the first model to feature 3 mm thick front and top sections of solid, surface-finished aluminium. The precision craftsmanship expresses the engineer's skill.
Sustainability and eco-intelligence
There is a long history of pronounced awareness of environmental issues and responsible use of resources and energy at JURA. This is why JURA focuses on automatic coffee machines, which individually prepare speciality coffees, win customers over through their energy efficiency and avoid all unnecessary packaging waste.
Contact us now to learn more how Jura can improve your office coffee program.
---
Automatic - SCHAERER ESPRESSO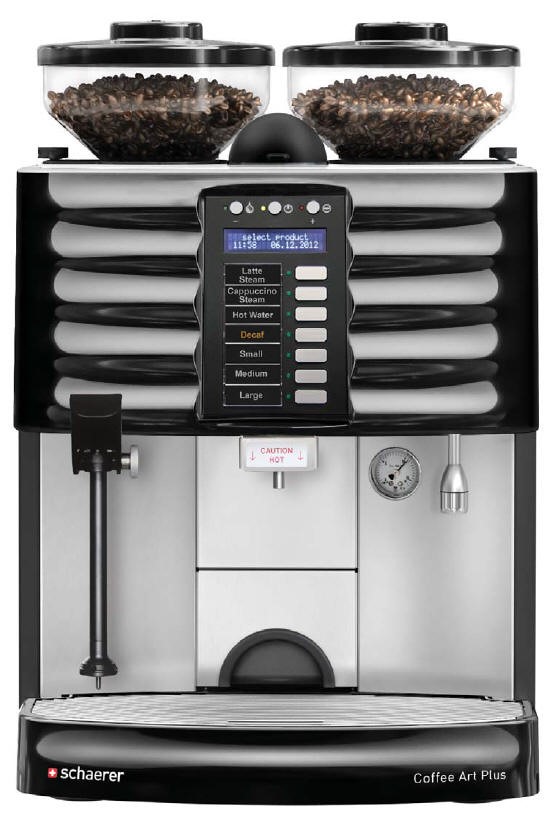 Performance
Cappuccinos/Lattes: 70-80, 16oz per Hour
Steams 32oz of milk in 1 Minute
Highlights
Steam Wand with finesteam air injection and auto shut off.
Revolutionary PEEK steam wand material dramatically lowers the wand's surface temperature.
6kW Steam Boiler; 3kW Water Boiler
Dual bean hoppers with dedicated grinders
12 programmable selections
Fully automatic cleaning program (HACCP)
Height – adjustable spout (65-180mm)
Profile
Electricity 208V / 30 amps
NEMA L6-30R Receptacle
Water: Direct line fresh water
Weight: About 88lbs
Drain Gravity
17" W x 22" D x 30"H