The Bean to Cup Experience
These elegant, modern appliances grind real fresh coffee beans at the touch of a button. All you have to do is select your choice of beverage and let the machine do the work.
The result is an authentic, great tasting hot premium refreshment that will satisfy even the greatest coffee Barista. The machines can be set to dispense Hot Chocolate, French Vanilla, and hot water for our range of teas.
The Café Experience
A bean to cup coffee machine is the perfect solution, with more options than any other type of coffee machine this will keep even the most prestige coffee connoisseur satisfied.
---
The Total 1
The most complete Coffee Kiosk guaranteeing freshly brewed coffee available 24/7. Ideal for the most demanding coffee programs. The Total 1 has 3 whole bean hoppers, 3 soluble canisters, and an interactive screen.
The Total 1 options:
3 cup sizes - between 5oz to 20oz
3 brew strengths
Selection of 3 Whole Bean Coffees, 50/50, French Vanilla, Vanilla Moka, Hot Chocolate, Vanilla Coffee, Vanilla Moka Coffee, Mokaccino, Energy Shot Coffee, Hot Shot Blend Coffee, Long Espresso, Cafe Latte, Cappuccino, and Hot Water for tea.
Equipped with a "Whipper" to froth all your beverages
Environmentally friendly
Designed and engineered to expertly grind a bean for optimal freshness.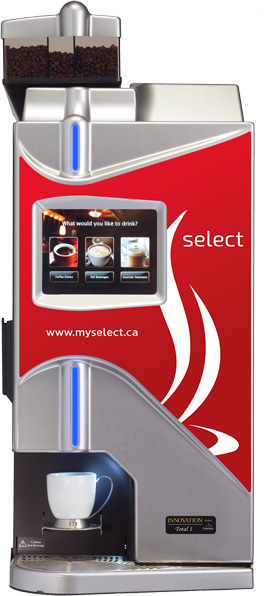 ---
The Total Lite
Total Lite's advanced Whole Bean Coffee brewing technology provides convenient, affordable and flexible solutions to meet the coffee needs of today's increasingly savvy consumers.
The Total Lite options:
3 cup sizes
3 brew strengths
Selection of 3 Whole Bean Coffees, Long Espresso, Hot Chocolate, Mokaccino, 50/50, Vanilla, Vanilla Coffee, Vanilla Moka, Vanilla Moka Coffee and Hot Water for your favorite tea
Environmentally Friendly
Sleek & compact for minimum space requirement
Delivers incomparable freshness 24/7

---